Frozen Sires
Main photo is Katholts G Dutch
We have an impressive line-up of frozen genetics which enables us to select some of the best dogs around the world to breed with our beautiful females. All our dogs come from health certified and working certified bloodlines which includes, Hip scores,vWd type 2, eye tested clear. And working certified in the country of origin. Some of the early frozen from over 10 years ago was not work tested,however they came from working bloodlines that were used for hunting and all early dogs were mainly hunted rather than conformation. We have the most diverse gene pool for the breed in Australia and knowledge of the breed that spans back 30 years when we first purchased our first GWP for working purposes in the Otago and Southland areas of New Zealand.
Sixtus has progeny in Australia as of 2009 and they are already amazing individuals, We have retained the only female in the litter called Kobnko The Manlicher (Verdi). One male is in New Zealand with David richardson & Kathy Anderson who already own our home bred Dual Champion Kobnko Kat Burglar (Max). Other males from the litter have gone to very selective homes.
I owe huge Thanks to my stud owners for making everything I have done Possible
In 2009 I imported frozen from Germany from Eiger V Erthal an outstanding sire owned by
Ines Oebel (Germany)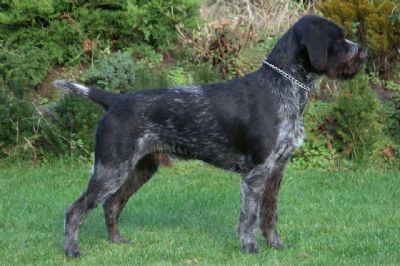 Imported via Frozen was two important sires that have produced outstanding puppies with two of my girls.
Valko V Ostetal (Germany)
Below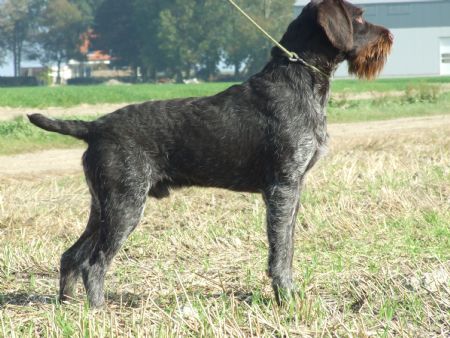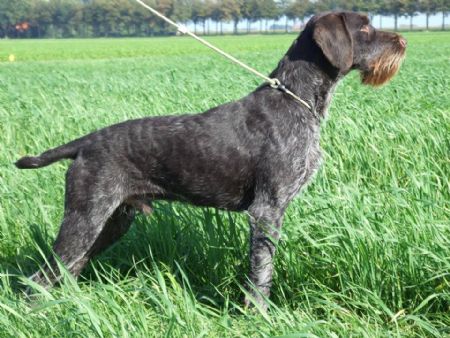 Katholts G Dutch (Denmark)
Below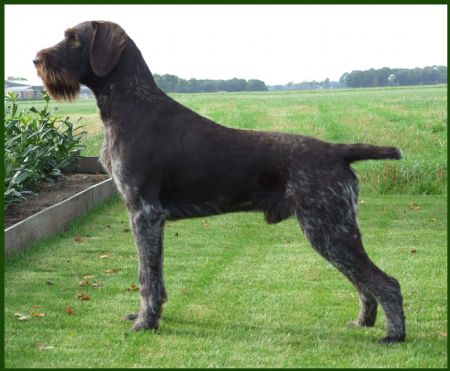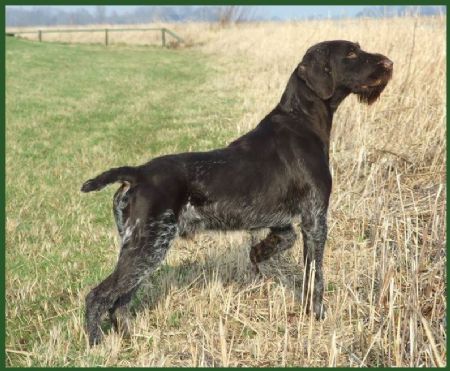 Both certified working Drahthaar with VDD
Progeny from both sires have NAVHDA prize 1 and 2 .Natural Ability Test, Prufung
These two dogs are owned and worked by Hans Keuper,Netherlands
---
Another Import that has produced Champions and field titled progeny is
Danish Hunting Champion Katholts C Sixtus (Denmark)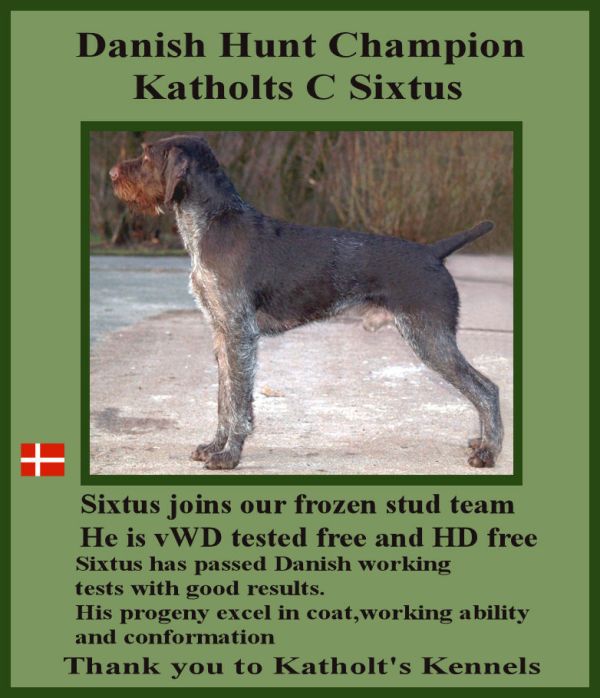 ---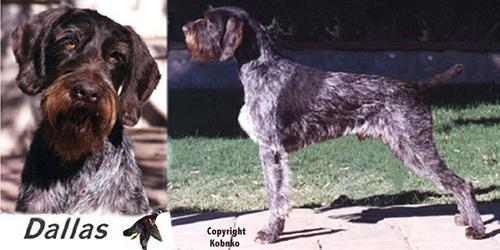 Ch Weidenhugel Merlin V Nico,CD,Master Hunter
Dallas has sired many hunting,agility,obedience and champion offspring in USA
Dallas has progeny winning in the ring and hunting. He is a great producer of type, pigment and eye colour. Dallas is DNA tested, health and hip certified.
---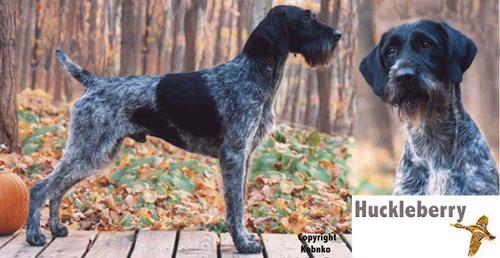 Ch Ripsnorters Makin A Statement
Group Winner

Top GWP Producer 98/99

OFA Hips and Elbow Normal

Correct Pigment with dark Brown Eye's

DNA Tested
Litter brother to our B Huck had a dark eye,good hard coat and great working drive
Sire All German Blood
​
---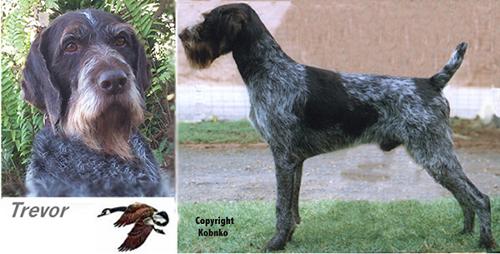 Ch Korskote Touch N Go (Trevor)
Trevor is Frozen and he was a fantastic hunting dog and companion. He was very clever and could be taught tricks in one lesson. He is gone but remains firmly in my heart as the lovable rogue he was that made me laugh all my life, until the end when he made me cry.
---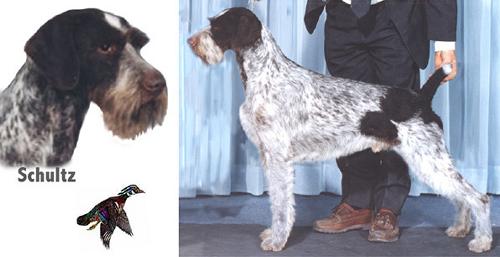 Ch Ripsnorter Its Showtime
His direct background comes from working bloodings.
At stud at KOBNKO by frozen semen to approved OFA Females.
Schultz's lines combine both field and conformation. His progeny are proving of excellent
type and super happy temperaments
---