Welcome to Kobnko Deutsch Drahthaar's
German Wirehaired Pointers Australia
Queensland Australia
The Quiet Achievers
When translated to English this is German Wirehairs, the word Pointer is added as an addition but not used in Germany to describe the breed.German Wirehaired Pointer is the English term.
KOBNKO Pronounced Cobb N Co

My dogs have imported bloodlines and are exceptional hunting and deer tracking dogs. Only from health certified and working certified bloodlines.
Looking for a puppy go to Puppies available page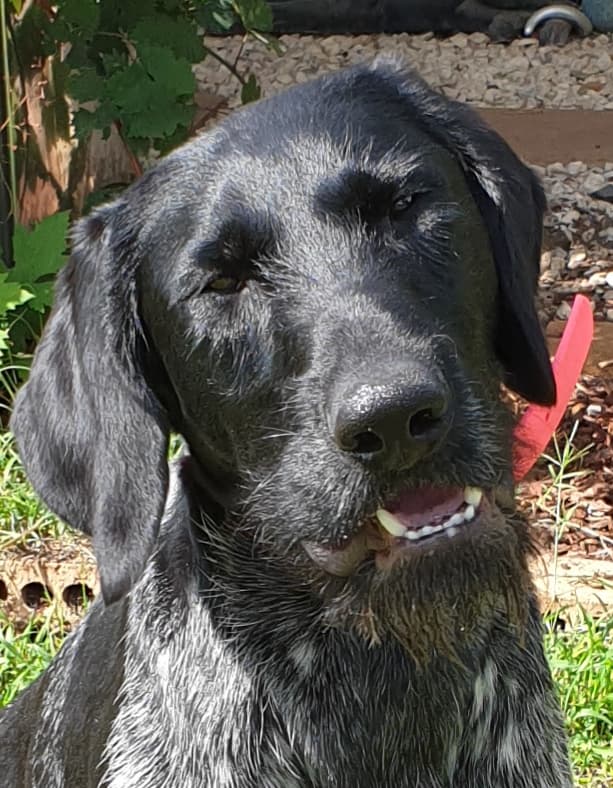 Welcome Barak the New Drahthaar
NEW FIELD TRAIL CHAMPION 2019
​NUMBER 11 WORK TITLE FOR KOBNKO
​FT CH KOBNKO AGAINST THE WIND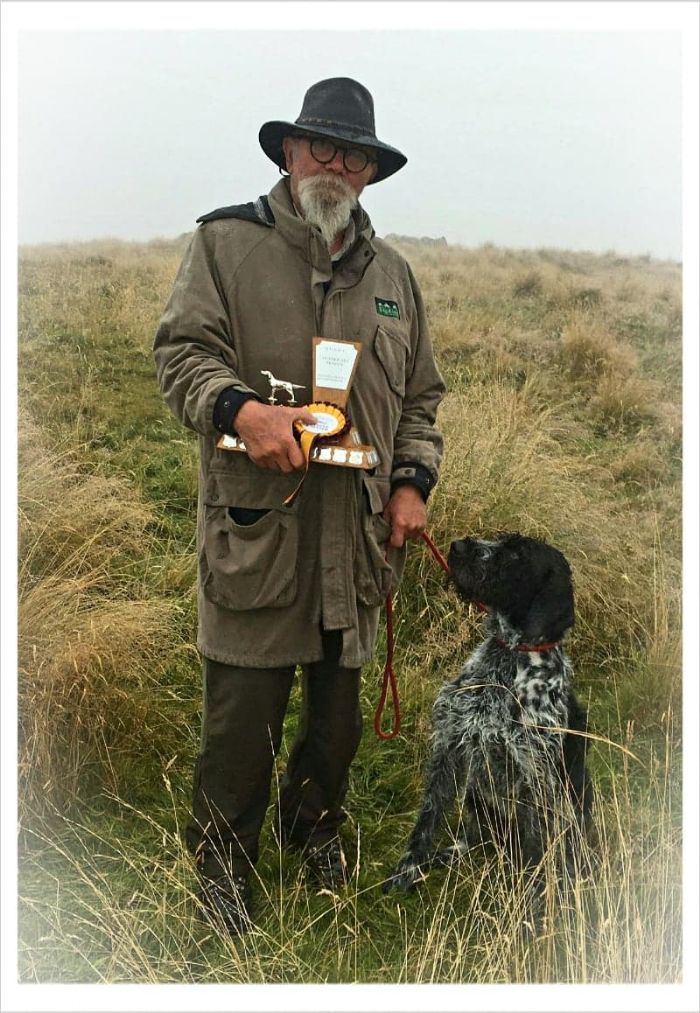 ​Boz and Proud Owner David Richardson NZ
Kobnko the name for Strong Hunters All Game All Terrain
---
Kobnko has had working Wirehaired Pointers since 1979 and prior had other hunting breeds so our record of dog breeding extends back over 35 years.
This is Not a Business but a hobby,

designed not to sell puppies

.

Stock is imported blood and frozen semen.
No Pecuniary
Gain.
Breeding occasionally and with imported lines is costly and therefore it is a passion.
I don't breed on a regular basis, so puppy placement is selected to the permanent correct homes.
I have exported to Europe and 2 other countries with great success. We believe the breed should adhere to the breed standard of the FCI club which takes it's breed specifications from the VDD Germany club. This breed is a dedicated hunting breed, used to control vermin such as Deer,rabbits, Ducks,Geese and pigs, They have exceptional noses for deer tracking and work best in cooler climates.
The benchmark for quantifying the true working ability of a dog is accessed worldwide by, the qualifying of a dog under the certified accreditation processes conducted at the varying national competition's.
My

imported working lines are available to discerning people who wish to work this breed .
My dogs come from above average certified working base tests, from working lines with certificates and titles in the field, including canine registration club associated titles and other bodies such as NAVHDA which is a natural ability test(Prufung) which is also done in Germany. The German Club also have breed stud shows and conformation shows regulated by their system.Outside their system in Germany there are also Drahthaars which are undocked and bred by average people who do not get involved in work testing their dogs. All dogs born in Germany are Drahthaars even those born outside the VDD system.The FCI recognises this fact.

I have produced Multiple Retrieving Trial title's in Australia and Field Trial Champion in New Zealand. Plus having bred NAVHDA tested dogs.Prufung natural Ability Prize 1 times 2 and Prize 2 times 1
As My Kennel is dedicated to the breed I have an advantage of breeding Strong versatile imported working dogs

If you wish for more information on this breed please contact me and I am happy to extend my knowledge of the breed.


I am not a business, this is a passion and hobby.
First and foremost I subscribe to the FCI breeding standard in accordance with their regulations. I

believe one of the most important factors in breeding any dog is to actually know the breed you are breeding.
Only by personally raising, training and testing a dog can one fully understand true breed character and abilities

.
Contact me on 0437930308 or text and email kobnko2002@yahoo.com.au
Understanding that any particular breed is much more than just its individual scores I carefully and thoroughly research the dog's ancestry for health, performance, temperament issues, strengths and weaknesses when selecting a stud dog. Most studs are from Frozen Semen from overseas working bloodlines. I am extremely proud of the 3 puppies sent to Friends in USA along with Dentrese Kennels. These puppies have proven themselves with NAVHDA tests prize 2 x prize 1 and 2. They also achieved placements at GWPCA National 2013. Picture below of their arrival in USA

Bonza Exported to USA Standing and pup trio far left on screen. Passed all Health tests and
all have passed work tests. NAVHDA = Prufung. North American Versatile Hunting Dog Association. Bonza passed with top Scores prize 1.
Pointing green collar is Fosters and red collar Kiwi. Sired by Valko V Ostetal.
Proud to have exported Quality dogs overseas to Ripsnorters Kennels.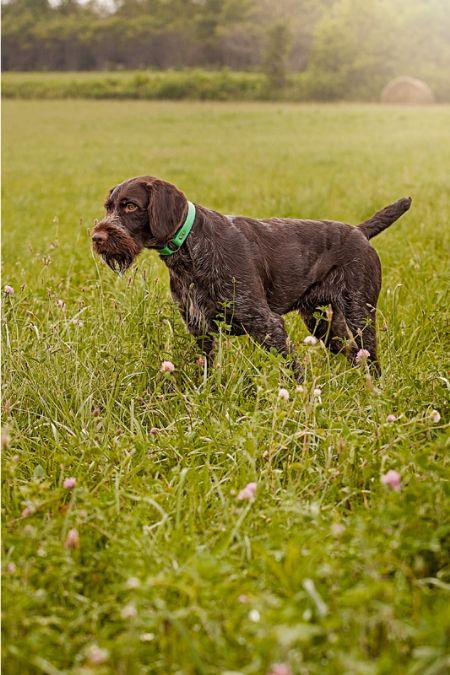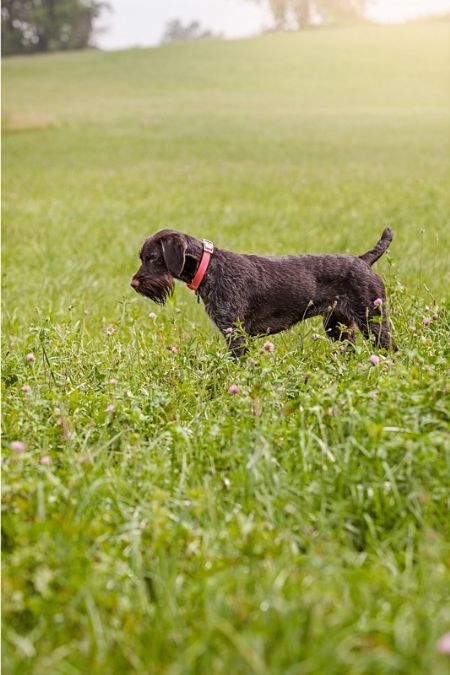 ---
---
Ambrose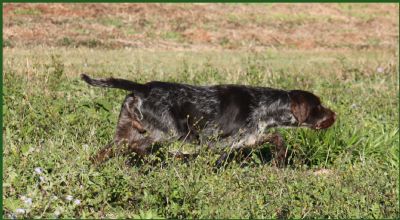 Contact email kobnko2002@yahoo.com.au
---
German Wirehaired Puppies For Sale
178176 Visitors